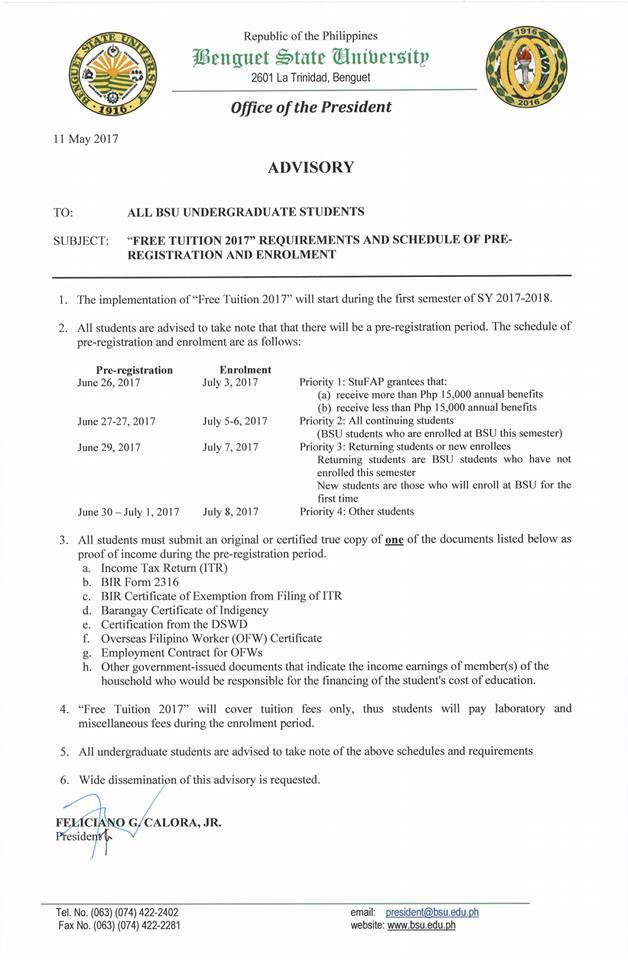 On an advisory released by the President of Benguet State University, Dr. Feliciano G. Calora, Jr. last May 11, 2017 stating the "FREE TUITION 2017" program of the premier state university in the Cordilleras.
Although according to the advisory as posted below from the Official Twiiter and Facebook accounts of BSU. The program would cover only the tuition fees and that the students would need to pay still their laboratory and miscellaneous expenses which is still okay if you come to think about it.
All students must submit an original or certified true copy of one of the documents listed below as proof of income during the pre-registration period:
Income Tax Return (ITR)
BIR Form 2316
BIR Certificate of Exemption from Filing ITR
Barangay Certificate of Indigency
Certification from the DSWD
Overseas Filipino Worker (OFW) Certificate
Employment Contract for OFWs
Other government-issued documents that indicate the income earnings of member or members of the household who would be responsible for the financing of the student's cost of education.
NOTE: Failure to submit a proof of income during the pre-registration will disqualify the student to the free tuition program. ONLY UNDERGRADUATES ARE QUALIFIED OF THE PROGRAM AND WILL NOT COVER GRADUATE STUDIES.
StuFAP Grantees are BSU students receiving nationally funded scholarships.
This program is an effect of Senate Bill No. 1304: FREE HIGHER EDUCATION FOR ALL ACT. An act providing for a full tuition subsidy for students enrolled in state universities and colleges (SUCS), and appropriate funds thereof.
For more information and clarifications please call the following numbers:
(63)(74) 422-2127 or 422-2402